About the Barrie Home Inspector
 Roger Frost is a Certified Building Code Official and Certified Master Inspector who has inspected over 8,000 homes in the Barrie, Alliston and Orillia area.
Barrie Home Inspector – Roger Frost
Roger Frost is currently 68 years of age and a full time Professional Home Inspector in Barrie ON.   Roger worked for the Fire Department for 30 years as a Platoon Chief and in his last 7 years as Project Review supervisor for construction projects which involved buildings from a cost of hundreds of  thousands to over $13 million for large residential or commercial units.
Roger Frost currently resides in Barrie On with his wife Brenda. Most of his time is spent performing Residential and Commercial inspections. Roger has and provides Commercial Building Inspections to most of Southern Ontario and has contracted work as far away as New Brunswick. Conducting Commercial and Industrial inspections is a specialty for which Roger's Home Inspection Training and Education has created quite a demand.
Home Inspector Qualifications
Having a professional designation as a Certified Building Code Official and many years of design and construction experience is something clients have come to respect and allowed Roger to build an impressive customer base which is continually growing due to referrals from satisfied customers.
Barrie Home Inspector – Money Back Guarantee
Due to our Training & Home Inspection Knowledge we offer a 100% Money Back Guarantee on every home inspection.  There are no tricks or conditions forcing to waive this condition,  we actually offer the guarantee for a full 30 days after you take possession of your home.  No other Inspection Company in Simcoe County offers a 100% Risk Free Home Inspection.
Understanding Your Home Inspection
A home inspection is a limited, non-invasive examination of the condition of a home, often in connection with the sale of that home. Home inspections are usually conducted by a home inspector who has the training and certifications to perform such inspections. The inspector prepares and delivers to the client a written report of findings. The client then uses the knowledge gained to make informed decisions about their pending real estate purchase. The home inspector describes the condition of the home at the time of inspection but does not guarantee future condition, efficiency, or life expectancy of systems or components.
Many times we get calls for individuals looking for Home Appraisals. A home inspector is often confused with a home appraisers. A home inspector will determine the condition of a structure, whereas an appraiser determines the value of a property, typically hired by lender. In Canada, although not all Provinces regulate home inspectors, there are various professional associations for home inspectors that provide education, training, and networking opportunities. A professional home inspection is an examination of the current condition of a house. It is not an inspection to verify compliance with appropriate codes; building inspection is a term often used for building code compliance inspections in Canada. A similar but more complicated inspection of commercial buildings is a property condition assessment. Home inspections identify problems but building diagnostics identifies solutions to the found problems and their predicted outcomes.
When buying a new home having a Home Inspection allows you the opportunity to have a Professional do a through Visual Inspection of the property prior to purchase.  Many times a prospective buyer will bring in Experts to examine and provide estimates on repairing a home prior to purchase.  Some items that can require an expert is septic systems, wells, roofing, electrical, plumbing, mould and structual inspections.   
One fear that most home buyers have is Water in Their Basement.  The Barrie Home Inspector uses the Highest Quality Moisture Meter and Thermal Imaging to find and detect hidden moisture.
Sellers no longer fill out the SPIS ( Seller Property Inflormation Statement )  The current law is that a vendor is not under a duty to disclose patent defects  of quality; however they have an obligation disclose latent defects  which render the property unfit for habitation or defects which render the property dangerous or likely to be dangerous.  There is no duty to disclose defects which affect the value (only) of the lands.  There is an obligation to disclose habitation or dangerous deficiencies discovered after the Agreement is signed but before closing.  Nonetheless, vendors are not liable if they have no knowledge of the latent defect.
Remember when Buying a Home there is no warranty.  Caveat Emptor – Buyer Beware 
Your only recourse if you have been lied to by Home Sellers is to go to Court.
Courses and Qualifications Include the following:
National Association of Commercial Building Inspectors

Certified Master Inspector

Construction Experience

– Over 20 years in residential and commercial construction.

Inspection Experience Over 28 Years of Inspection Experience

Member of National Association of Certified Home Inspectors

Member of National Association of Commercial Building Inspectors

WETT Certified Inspector – over 15 years experience

Ministry of Municipal Affairs and Housing

 Part 3 Large Buildings
Part 9, The House

Fire Prevention

Structural

Building Envelope

Health & Safety

Carson & Dunlop Home Inspection Course Graduate

 
Visit our Blog which has maintenance advice for home owners and areas of defects
Roger Frost has worked and trained in the Building Industry in one form or another for most of his professional career.  After retiring from the DND Fire Department he has performed over 8,000 paid for home inspections in the Barrie, Orillia and Alliston area.
Read Article on Electrical Inspection as Part of your Home Inspection.
Site Basic WETT Inspections  available at time of home inspection for only $75.00
WETT Inspections are now required by 95% of all Home Insurance Companies prior to issuing Home Owners Policy.  Even if the previous owner had a WETT Certified Inspection you will be required to obtain a new inspection on purchasing your home.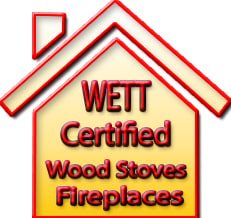 Most rural properties now have a wood stove, fireplace insert or pellet stove to supplement their oil or propane heating.  Older appliances may not meet today's installation requirements and unfortunately there is no "Grandfather Protection".
Many times I have advised clients that it would be cheaper to buy a new wood stove that is compliant with their existing setup rather than retro fitting unit with various methods of reducing clearances to combustibles.
We also perform WETT Inspections and Home Inspections in Wasaga Beach.
Call Roger today at 705-795-8255  or Email at [email protected]