Structural Defects – Pictures from Home Inspections in Barrie
Structural Defects can be minor in nature or major problem requiring permits and contractors.  Any structural modifications will require a Detail Drawing stamped by an Engineer or Registered Designer.  One of the most serious and common structural defects is home owners removing support walls.  Many bungalow style homes have trusses supporting their roof.   Trusses span the entire width of house and are supported on exterior walls, which allows interior walls to be removed as required.  Home owners should not arbitrarily remove walls prior to consulting with an expert.  If roof failure or other damage resulted your home owners policy would not cover your damages.
View Structural Defect Pictures taken by the Barrie Home Inspections
Structural Defects – Inspection
Homes of any age are subject over time to weather conditions, ground shifting, warping, and more.
Our home inspection service offers a visual assessment of the structural components of your home, including:
✔️  Probing with a tool
✔️  Inspecting framing members  ( read about Framing Inspections )
✔️  Visual inspection of foundations
We would recommend hiring a Structural Engineer if any of following items appear to affect integrity of home:
❌  Evidence of shifting foundation walls or horizontal stress cracks in concrete.
❌  Bowing or sagging of framing members
❌  Insect or wood rot is present
❌  fire, wind, water or flood damage
Serious structural problems in houses are not very common, but when they occur they are never cheap to fix. Some can't be fixed at all. This report won't turn you into an seasoned home inspector, but it will give you some of the common indicators.  Part of the Home Inspection is the roof inspection which includes evaluating the condition of your roof, including shingles, underlay and structure.
Structural Defects – Uneven Floors
Uneven floors are typical, particularly in older century homes. Here is a trick to help distinguish between a typical home with character and a structural problem. If the floor sags to the middle of the home, it's probably just a charming old home. Century homes can be a labour of love, and a lot of people do not want a "project house"  that will take up all their free time.
On the other hand, if the floor slopes towards an outside wall, there is a good chance that the house has a failing foundation or rotted framing.
Structural Defects – Is That House Leaning!
While no house is perfect, this is one "red flag" where you should be very careful. Take a look at the house from across the street. If the house appears to be leaning one way or the other, there may be a structural issue or support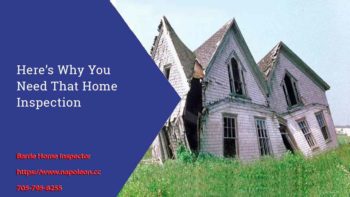 failure. It sometime helps to line up a front corner of the house with the back corner of an adjacent house just for reference. The corners should be parallel. Stepping back from the house to take an overview of the whole house is always a good idea. It is easy to miss something major by standing too close to it! If there is a lean that is detectable by eye, don't take any chances, hire a structural engineer.
HORIZONTAL FOUNDATION CRACKS ARE NEVER GOOD!
There a very few home that don't have some cracks in the foundation. This goes for new houses as well as old ones. While there is a great deal of engineering knowledge that goes into "reading" these cracks, there is one rule that you should never forget. "Horizontal cracks are a problem".  Barrie Home Inspections has discovered and analyzed thousands  of cracks in poured concrete and masonry block foundations.  Feel free to call for information or advice for your particular problem.
Free Thermal Imaging
An Infrared Camera can help see hidden structural support features that otherwise are not visible.  Thermal Imaging can also detect missing insulation or hidden moisture.  Thermal Imaging is included Free with every home
inspection.  The reduction of the cost of Infrared Cameras now enables all Professional Home Inspectors to offer this service.  Todays Home Buyers need every advantage possible to ensure that they are fully aware of the condition of the property they are purchasing.   Whether the service is Free or you have to pay an extra fee, Thermal Imaging is a basic requirement  for your Home Inspection.
The Barrie Home Inspector was the first Home Inspector in Simcoe County to offer Thermal Imaging for Home Inspections.  We are the only Home Inspector to also offer a 100% Money Back Guarantee with no conditions or tricky time restrictions.  Our superior training, education and experience allows us to offer this unique Money Back Guarantee offer.  Roger Frost has inspected over 8,000 residential properties and has over 20 years of home inspection experience.
Certifications