Professional Home Inspection for Barrie
Professional Home Inspection in Barrie by a Certified Building Code Official.  Roger is also a Certified Master Inspector and is WETT Certified for wood burning appliance inspections.  When you book an inspection with Barrie Home Inspection you are assured that it will be Roger Frost conducting the inspection, not any "team member or trainee".
Our repeat customers and referrals are based on our knowledge and inspection abilities which is something that we value highly, and continuly are upgrading our education to match the building industries latest trends.  Customer and participation is highly encouraged, so that the home owner and home buyer can get peace of mind about the true home condition.
Home Inspection – Covid19 Protocos
Roger Frost has received the 3 doses of Phizer vaccine but still follows the standard safety procedures, such as wearing a mask and protective gloves at all times and maintaining Social Distancing at all times.  At the end of the inspection, if practical, Roger provides a laptop for his clients to review all the aspects and deficiencies noted during the inspection.   This allows the client to ask any required or to visually inspect the item in question.  At the completion of the inspection the Client will fully understand the condition of the home and all will have been answered.
Century Home Inspection in Barrie
Barrie Home Inspection specializes in Century Home Inspections and has completed hundreds of inspections in the Simcoe County area.  A quick search on Google will deliver many expert articles on the complexity and issues that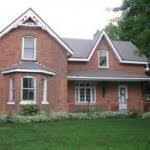 come with purchasing a Century Home.  I often receive inspections requests from as far North as Sudbury and as far East as Kingston, from clients who have read my articles on Century Home Inspections and would like to obtain my services.  Thinking of purchasing a Century Home – Call Roger at 705-795-8255 for Free Consulation and answers to any you may have.
WETT Certified Inspections
Barrie Home Inspection has been providing WETT Certified Inspections to Barrie and surrounding area for over 19 years.  Most insurance companies will require a Level 1 WETT Inspection prior to insuring your home.  While a home inspection will include a visual inspection of the fireplace, chimney and hearth, a WETT specialty inspection conducted by the Barrie WETT certified inspector includes a visual inspection of all the elements of any wood burning appliances in the home to make sure that they are installed correctly and installed in compliance with building codes and manufactures instructions. It will usually  include inspection of  the chimney for any potential structural or flue liner problems.
FREE Thermal Imaging
Barrie Home Inspection was the first home inspector in Simcoe County to offer Thermal Imaging with an Infrared Camera.  Thermal Imaging is included FREE with Every Home Inspection.  Thermal Imaging can disclose hidden
moisture, missing insulation and electrical hot spots in your home.  One insulation issue which is commonly found is that older homes did not require insulation to extend beyond 18 inches below grade and subsquently many finished basements will show a cold zone on lower walls where insulation was not installed.   Cathedral ceilings are another area where builder missed an area of insulation which could not be detected other than using an Infrared Camera.  Ensure your Home Inspector offers this service before committing to an inspection.  Read more about Advantages of Thermal Imaging with your home inspection.
Money Back Guarantee
We are the only Home Inspection Company in the Barrie area to Offer a 30 Day Money Back Guarantee with no conditions, time limits or other tricky wording.   You get 30 days from when you move into your home to ensure you are completely happy with your inspection.  If you are not 100% Happy then your Money is Cheerfully Refunded, no asked.  Our Experience, Knowledge and Education allows us to offer the Best Money Back Guarantee in Simcoe County.
Inspection Services
In addition to professional home inspections, we offer other related services as well. These include:
WETT inspections on wood stoves and fireplaces 
Mould Testing
Thermal Imaging
Vermiculite Testing
Pre-Listing Inspections
Commercial Inspections ( apartment buildings, industrial buildings, plaza's, strip malls, mixed commercial and residential, multi-residential units from duplex's to 6 plex's )
Indoor Air Quality Testing
New Home Warranty Inspections (Tarion)
Most home inspections will require about two to three hours to complete. Upon completion I will REVIEW ALL PICTURES TAKEN and provide a detailed computerized report complete with photos of any problems. We always welcome , and our customers are encouraged to be present during the entire home inspection process.  ( while maintaining Social Distancing )
Certifications