During a chimney inspection, a WETT Certified Technician will evaluate the solid fuel appliance, equipment and it's chimney \\ venting system for compliance and general condition.  The observations made during the inspection will be documented in a written report. Site Basic WETT Inspection Report is issued at time of inspection. Meets requirements of insurance companies.

Floor Protection for un-certified wood stoves comes under CSA B365 Requirements ( Installation Code for Solid Fuel Burning Appliances )  Clearance from floor to appliance is dictated by clearance from floor.
There are two aspects to floor protection:  thermal protection – protecting the floor from radiant heat from the bottom of the stove – and ember protection.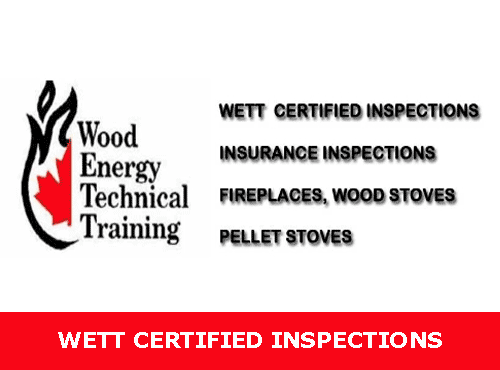 Wood Energy Technology Transfer Inc. (WETT Inc.) is a non-profit training and education association managed by a volunteer Board of Directors elected by holders of valid WETT certificates. Through its administrative designate, WETT Inc. functions as the national registrar of the WETT program. Through professional training and public education, WETT Inc. promotes the safe and effective use of wood-burning systems in Canada.

WETT Inspection – Items Inspected – Click Images to Read More
Reducing Clearances to Combustibles is governed by CSA Standard B365 which sets the requirements for uncertified wood stoves.  The tables used for Reducing Clearances can be used on both uncertified and certified wood stoves and appliances. CSA B365 chart gives you a selection of products which can be used to reduce required clearances.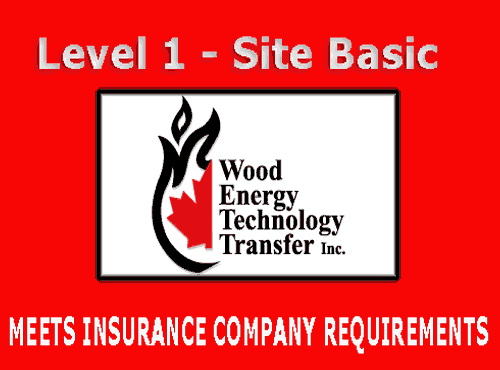 LEVEL ONE (SITE BASIC) INSPECTION
Readily Accessible is defined as quickly or easily reached for inspection. A level-1 inspection does not require the use of special tools for the opening or removal of any panel, door, covering, or system components; nor (unless at the discretion of the inspector and client) would it require the use of ladders.

Level One WETT Certified Inspection price is $175.00.  When you include a WETT Inspection with your Home Inspection the fee is only $75.00 per appliance.  WETT Inspections outside our local service area are typically $200.00. During Summer Months we expand our inspection area for weekend WETT Certified Inspections, covering Gravenhurst, Bracebridge, Honey Harbour, Bala and Port Carling