During a chimney inspection, a WETT Certified Technician will evaluate the solid fuel appliance, equipment and it's chimney \\ venting system for compliance and general condition.  The observations made during the inspection will be documented in a written report. Site Basic WETT Inspection Report is issued at time of inspection. Meets requirements of insurance companies.
Read More
We take pictures of your appliance and chimney for future reference if required.  The level of the inspection, areas observed and complexity of the inspection is determined by the level of inspection you require. 
It is always recommended that you have your chimney cleaned prior to inspection.  If you are buying a new home and have never used your wood burning appliance, then it is strongly recommended that you hire a WETT Certified Chimney Sweep to clean and inspect your chimney.
Many older homes and townhouses with Manufacted Fireplaces have galvanized chimneys.  These are no longer permitted for use as they were originally designed for use with oil stoves and furnaces ( Class A rated to 540º C ) .  This older galvanized chimneys are required to be upgraded to a Class A chimney.  Class A chimney pipe usually has a UL-listing, which allows it to be used with a wider variety of manufacturer's stoves, fireplaces, etc. The majority of brands have an inner layer constructed of stainless steel but the out layer can be either stainless steel or galvanized steel but have to be rated for 650 º C.
UL Standard 103
UL Standard for Safety Factory-Built Chimneys for Residential Type and Building Heating Appliances
These requirements cover factory-built chimneys intended for venting gas, liquid, and solid-fuel fired residential-type appliances and building heating appliances in which the maximum continuous flue-gas outlet temperatures do not exceed 1000°F (538°C). Factory-built chimneys are intended for installation in accordance with the Standard for Chimneys, Fireplaces, Vents, and Solid-Fuel Burning Appliances, NFPA 211, and in accordance with codes such as the International Mechanical Code, the International Residential Code, and the Uniform Mechanical Code. They are intended for installation inside or outside of buildings or both, in a manner that provides a vertical (30 degree maximum offset) conduit or passageway to transport flue gases to the outside.
The chimneys covered by these requirements comply with either a limited duration 1700°F (927°C) flue-gas temperature test or a limited duration 2100°F (1149°C) flue-gas temperature test, at the manufacturer's option.
Floor Protection for un-certified wood stoves comes under CSA B365 Requirements ( Installation Code for Solid Fuel Burning Appliances )  Clearance from floor to appliance is dictated by clearance from floor.
There are two aspects to floor protection:  thermal protection – protecting the floor from radiant heat from the bottom of the stove – and ember protection.
Read More
For ember protection, you need to have continuous, non-combustible flooring under your appliance, extending 8" beyond it at the rear and sides and extending 18" in front of the wood loading door.  When I say "continuous" it means there can be no cracks where embers could get down to combustible material.  So, patio stones won't work unless you grout between them.
If you have a certified appliance, you don't need to worry about thermal protection.  The legs are designed to be long enough to keep the firebox far enough from the floor that the floor won't get too hot.  If you have an uncertified appliance, you will need to have additional thermal protection under the stove.  This gets complicated (different requirements for different leg lengths).
In Accordance with CSA B365 An appliance with less than 75 mm ( 3 inches ) of clearance between the firebox bottom and the ember pad shall be supported off the ember pad by two courses of 90 mm ( 3.5 in ) thick hollow masonry, clay or concrete units, arranged such that the hollow cores in the two courses are at right angles to each other to permit air circulation through them.
Ember protection is required for Fireplaces and Wood Stoves.  If your Fireplace Opening is less than 6 sq. ft. your hearth must extend 16 inches. ( rated ember protection may be added to floor )  If your Fireplace Opening is over 6 sq. ft. then 20 inches of ember protection is required.
Wood Stoves require 18 inches of ember protection in front of loading door,  The ember protection must extend 8 inches on back and sides of appliance.  All appliances tested under S627-1981 are not allowed to overheat the un-protected floor.  ( prior testing required a 8mm ( 3/8 inch non-combustible floor pad.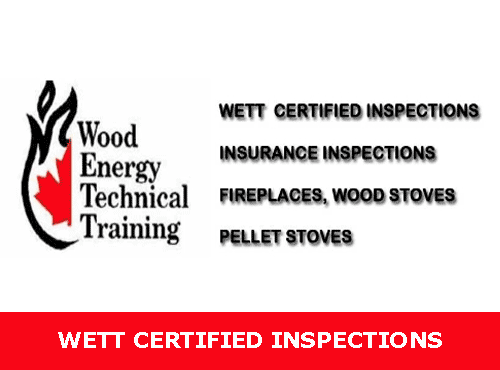 Wood Energy Technology Transfer Inc. (WETT Inc.) is a non-profit training and education association managed by a volunteer Board of Directors elected by holders of valid WETT certificates. Through its administrative designate, WETT Inc. functions as the national registrar of the WETT program. Through professional training and public education, WETT Inc. promotes the safe and effective use of wood-burning systems in Canada.
Read More
In carrying out its mandate to promote increased safety and effectiveness, WETT Inc. maintains the Wood Energy Technical Training program (WETT). The program is designed to:
Provide training to those who offer wood-energy products and installation and maintenance services to the public and to those who conduct inspections of wood-burning systems,
Confirm and recognize the knowledge and skills acquired through field experience, self-study and successful completion of WETT courses by issuing certificates of qualification,
Provide training to specialty audiences as the need and demand arises.
The WETT system consists of several courses recognizing the various types of work done by wood-energy professionals. Certification is achieved by completing courses to earn educational credits. A technical reference manual has been prepared to assist trainees in preparing for courses and as a reference for certificate holders.
WETT-certified professionals must abide by a code of ethics requiring professionalism in all aspects of their work. The installation and maintenance of wood-burning appliances is not a federally regulated industry in Canada. As a non-profit training and educational association, WETT does not oversee, nor is it responsible for, the workmanship of its members. As such, WETT does not act as a regulator. WETT does maintain internal processes to address breaches of our code of ethics. However, WETT cannot become involved in resolving consumer disputes.
Objectives of WETT
To develop, maintain, promote and deliver professional training courses within the framework of the Wood Energy Technical Training Program (WETT) for practitioners of trades related to the sale, installation, maintenance and inspection of systems using wood and other biomass fuels.
To maintain a registry containing the names of holders of valid WETT certificates and those who are students under the program.
In accordance with the WETT Code of Ethics, foster and promote among certificate holders the highest level of professional conduct in the delivery of services to the public.
To encourage and promote the safe and efficient use of wood energy through the distribution of public information materials and through collaboration with government agencies and related industries.
To foster and promote research and education in the utilization of wood as a source of energy.
To promote the interests and activities of the members of the organization in a reasonable and legal manner.
To provide a forum for the discussion of issues of importance or interest to the members and to share information and opinions for the mutual benefit of the members.
To carry on such other activities as may, from time to time, be ordered by the Board of Directors of the organization and which are consistent with these objectives.
Diversity and Inclusion
Wood Energy Technology Transfer (WETT) believes that a diverse and pluralistic society is central to our association's identity. Educators have a responsibility to contribute to a culture that recognizes diversity and fosters social inclusion.
WETT strives to deliver inclusive service. We recognize and energetically affirm the dignity of those we serve and employ, regardless of heritage, education, beliefs, race, religion, gender, age, sexual orientation, gender identity, physical or mental capabilities, or income.
WETT understands that an acceptance of differences can place individual and collective values in conflict. We are committed to tolerance and understanding. We act to ensure that people can enjoy services and employment free from any attempt by others to impose values, customs or beliefs.
No two inspections are the same and we tailor our inspections to meet our clients expectations and requirements.
Commercial Infrared Scans and Commercial Property Inspections by industry experts. Combining infrared thermal technology, along with our proven inspection techniques, allows us to provide our clients an accurate understanding of their future building's defects.
Items covered include Structural Frame, Building Envelope, Roofing, Plumbing, Heating, Air Conditioning & Ventilation Systems, Electrical, Life Safety & Fire Protection, Interior Elements, , Storm Water Drainage, and Utilities.
If you are purchasing a commercial, multi-family, or industrial property and want to protect your investment, call 888-818-8608 for a Free Consultation.
WETT Inspection – Items Inspected – Click Images to Read More
Reducing Clearances to Combustibles is governed by CSA Standard B365 which sets the requirements for uncertified wood stoves.  The tables used for Reducing Clearances can be used on both uncertified and certified wood stoves and appliances. CSA B365 chart gives you a selection of products which can be used to reduce required clearances.
Read More
The Table below gives the construction requirements for different materials used for heat shields and the reduction for each one.  Maximum reduction is 67%.  No matter what material you choose the size and installation requirements do not change.
Minimum space between shield and combustibles: 21 mm (7/8 in.).   

Minimum clearance along the bottom of shield: 25 mm (1 in.).   

Maximum clearance along the bottom of shield: 75 mm (3 in.).   

Minimum clearance along the top of shield at ceiling: 75 mm (3 in.).   

Shield extension beyond each side of appliance: 450 mm (18 in.).   

Shield extension above appliance: 500 mm (20 in.).   

Edge clearance for ceiling shields: 75 mm (3 in.).   

Adhesives used in shield construction must not ignite or lose adhesive qualities at temperatures likely to be encountered.   

Mounting hardware must allow full vertical ventilation.   

Mounting hardware must not be located closer than 200 mm (8 in.) from the vertical centre line of the appliance.   

Mounting hardware which extends from the shield surface into combustibles may be used only at the lateral extremities of the shield

Shields must be permanently mounted to walls and not temporary or a folding type shield.
There are manufacted products which can be used as wall shields and ember pads but they have to be rated for use by a Listed Laboratory such as ULC, UL or Warnock Hersey.  Ensure you read the Label in its entirety as some products rated for a wall are not permitted for use as ember pad or floor protection.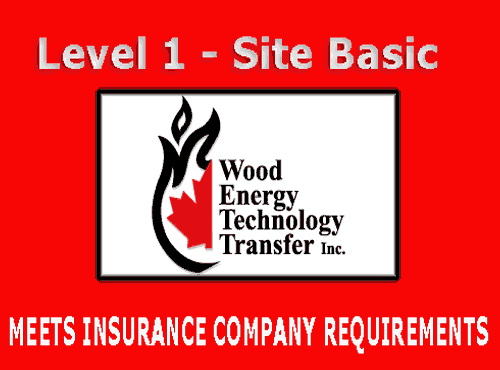 LEVEL ONE (SITE BASIC) INSPECTION
Readily Accessible is defined as quickly or easily reached for inspection. A level-1 inspection does not require the use of special tools for the opening or removal of any panel, door, covering, or system components; nor (unless at the discretion of the inspector and client) would it require the use of ladders.
Read More
WHAT IS INCLUDED:
The inspection of "readily-accessible" components of:
a solid-fuel-burning appliance, or
a site-built fireplace, and
the venting system for:
      a) a proper use of required components, and
      b) clearance to combustibles, and
      c) readily-visible system obstructions or deposits
WHY AND WHEN:
To verify code compliance of the readily-accessible components
a) at the homeowner's request, or
b) with the homeowner's permission, when requested by a third party (e.g. Insurance company, home buyer, etc)
WHAT TO EXPECT:
A basic, visual inspection by a WETT certified SITE inspector; performed without a ladder or specialized tools.
A (multiply page) report using WETT's recommended inspection checklist(s), or similar checklist(s), for the type of system being inspected
If you have just purchased a new home with a Wood Burning Appliance it is recommend that you have the Chimney Cleaned by a WETT Certified Chimney Sweep.  They can perform the Level One inspection for your insurance company at the same time.  Creosote could be hiding cracks or other defects which would be visible once chimney is cleaned.
Level One WETT Certified Inspection price is $175.00.  When you include a WETT Inspection with your Home Inspection the fee is only $75.00 per appliance.  WETT Inspections outside our local service area are typically $200.00. During Summer Months we expand our inspection area for weekend WETT Certified Inspections, covering Gravenhurst, Bracebridge, Honey Harbour, Bala and Port Carling