Home Inspection FAQ's
Home Inspection FAQ's answers asked everyday about various parts of the Home Inspection process and how it applies to their purchase of a new home.  Most of the time potential home buyers already have an accepted offer and are now trying to decide who and how to hire a professional home inspector to inspect their property. The average price of homes that I inspect range from $650,000.00 to $850,00.00, which is a considerable investment.  Many home buyers call and their only concern is the cost of the inspection, when in reality the experience of the Home Inspector should take priority.
Home Inspection FAQ's – About Your Home Inspection
Buying a new home can be a very stressful experience, especially when there are multiple offers and bidding wars due to low inventory.  Every home buyer has particular concerns that they want addressed or special attention paid to, which can be visible water leaks, mould, grading problems or issues with wood deck.  As a Certified Building Code Official with the Ontario Building Officials Association I have the knowledge and experience to not e many violations of the Ontario Building Code and whether a required Building Permit was obtained to build a deck or renovate a basement.
Home Inspection FAQ's – What does Home Inspection entail?
A professional home inspection is a limited, non-invasive visual examination of the condition of a home, most often performed when purchasing a home.  A professional home inspector can assess the condition of a property's roof, foundation, heating and cooling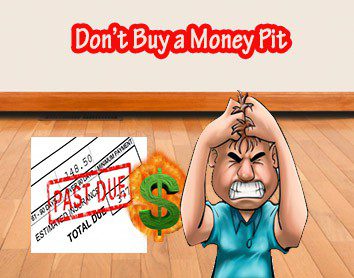 systems, plumbing, electrical work, and exterior of home.  Home inspections are typically performed  by a professional home inspector who has the training and experience and knowledge to perform home inspections. The home inspector prepares and delivers to the client a computerized report of their findings. The client then uses the information in report to make an informed decisions about their real estate purchase. The home inspector describes the condition of the home at the time of inspection but does not guarantee future condition, efficiency, or life expectancy of systems or components.

✅ Basement, inspecting; signs of moisture or dampness, type and amount of insulation, windows and doors.
✅ Insulation, inspecting; type and amount of insulation, presence of mould or asbestos.
✅ Garage; improper storage, electrical, foundations and fume barrier.
✅ Electrical system; copper or aluminum wiring, improper connections, location of boxes and panels
✅ Plumbing system; proper venting, operation of all fixtures, shut off valves present.
✅ Central air and heating system; systems operated at time of inspection, deficiencies and age of units noted.  ( a/c tested only when 65 degree in temperature.
Should I Attend the Home Inspection?
I always advise clients that attending the Home Inspection is very important.  While at the home any issues or items of concern can be visually looked at and various options for repair or replacement can be discussed.  Although our Home Inspection report is very detailed with overall pictures of  each room and system, actually seeing the item in question will always give you a better understanding and allow you to make an informed decision.
How Long Does Inspection Take?
The main difference in time a home inspection takes is whether your Home Inspector completes his computerized report at the house or completes the report at his office or home after the inspection.  There are pro's or con's to each method.  The value you place on your time is the main issue.  The Barrie Home Inspector provides your computerized report within 12 hours of the inspection.  Roger has decided to use this method because it allows him to research any item of concern which may require more detail to give the client the knowledge they require to make an informed decision.
The average inspection of a newer bungalow with no renovations done in the basement would be 1 1/2 to 2 hours.  Older homes often require more time and if the basement is finished the quality of workmanship can greatly affect the time of the inspection.  Century Homes require the most time to inspect as there has typically been multiple renovations completed and existing structure may have been modified or not up to today's standards.  While older homes only have to comply to the existing building code requirements when home was built, most clients want to know what would be required to bring home up to today's standards.
Did My Home Pass the Home Inspection?
There is no "Pass or Fail" for a Home Inspection.  There is no standardized Grading System for evaluating the condition of your home.  Typically defects found during a home inspection are classed as; Serious, such as a damaged engineered floor joist, aluminum wiring or asbestos insulation in the attic.  Maintenance issues, such as; caulking around windows and doors,  exterior painting required, rotting wood on decks, caulking in kitchens and bathrooms, squeaking floors, all minor in nature and most are present in most homes.   The number of issues and estimated expense of repairing items will determine if the home owner wants to move forward with purchase or ask the seller to repair or reduce price to compensate for deficiencies.   Your Realtor will typically advise you on the best route to take.
How to Find a Home Inspector?
Ontario has no formal licensing of home inspectors.  Anyone can print a business card and pay $500.00 for a professional looking website.  Some websites are plastered with Diploma's all from the same place which indicate training courses that only take an hour or so to complete.  It is up to the home buyer to do their "due diligence" and research the Knowledge, Experience and Training of the Home Inspector they are considering hiring. Many of my clients come from referrals from both Realtor's and Satisfied Customers.  I have done Home Inspections for 3 generations of some families.  Google Reviews, Home Stars and Yelp are some other places where you can check out customers thoughts about the service they received.
Realtor's are required to refer a minimum of 3 Home Inspectors to prevent Conflict of Interest.   Some people prefer to find their own Home Inspector to ensure that that they are working on their behalf and only have their Best Interest at Heart and removing any potential conflict with Realtor.  Remember when you are buying a property that once the deal closes and money has changed hands, it can be very difficult to get any items fixed or repaired.  Caveat Emptor – Buyer Beware
Quick Tip:   Many new Home Inspector's fudge their amount of experience!  Go to http://whois.net enter their website address and you will find Creation Date of website.  ( Barrie Home Inspector is Creation Date: 2005-05-16T12:57:50Z )
A True Home Inspection Story
A number of years ago I inspected a subdivision home that was between 15 and 20 years old.  The client expressed during my interview that she and her son were extremely allergic to mould and want me to give the house a through inspection using moisture meter.  The Inspection was completed and no moisture or mould was detected.
Two months or so later, I received a phone call from client who had moved into the home on closing but had found quite a bit of mould in the basement.
I went to the home the next day to investigate her findings.   I checked out the basement and sure enough the linoleum flooring was curled up at edges of walls and there was evidence of mould on wall and backing of linoleum.   Looking around basement to determine cause of this issue provided no answers.   I decided to go to the neighbors and see if they could shed some light on this issue.   The older lady on the left of home said they never have had any water issues and that the builder just lived across the back yard.   I went to the home on the right and talked to the owner there.   This lady informed me that her daughter had been called by home sellers to help clean up basement flooding because their sump pump had failed.
So the seller had failed to disclose a significant deficiency which had occurred between the buyer agreeing to purchase home and the buyer taking possession.  The buyer had paid approximately $12,000.00 dollars to have the mould professionally re mediated due to her and her sons allergic reaction.  The seller refused to acknowledge the sump pump issue or cost of repairs.  The buyer took seller to Small Claims Court to recover costs which was now increasing significantly as she had to hire a lawyer.  The Real Estate agent and myself spent the morning in Small Claims court ready to testify on behalf of our clients.
The buyer ended up settling for around $7,000 dollars prior to going into court which was less than half of the costs incurred by the fraudulent actions of seller.  Not a very just ending as the Buyer suffered significant financial loss and the inconvenience of not being able to live in the home until mould issue was resolved.
DEFECT PICTURES FROM HOME INSPECTIONS
Electrical Defect Pictures
Exterior Defect Pictures
Heating Defect Pictures
Insulation Defect Pictures
Roofing Defect Pictures
Structural Defect Pictures
Thermal Imaging Defect Pictures
WETT Inspection Defect Pictures
Roger Frost
Certified Building Code Official
Certified Master Inspector
WETT Certified Inspector
Phone 705-795-8255 
Wood Burning Information
WETT Inspection Information & Facts
Chimney Location
About Chimney's
Installation Check List
Maintenance for Safety
Outside Chimneys
Certifications