Midland Home Inspector – Certified Building Code Official
Midland Home Inspector –  Providing Professional Home Inspections by a Certified Building Code Official.  Roger Frost is a Certified Master Inspector who has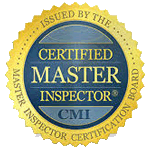 completed over 8000 Residential Home Inspections.  The Midland Home Inspector offers a 100% Money Back Guarantee on every home inspection.  Enjoy a Risk Free home inspection when purchasing property or investments in the Midland and Local Area.
The Midland Home Inspector provides both Residential and Commercial Property Inspections.  Roger is a member of NACHI , OBOA, WETT Inc and  NACBI.  Let our Knowledge,  Experience and Training protect your investment when purchasing a new home or commercial property.
Midland Home Inspector – Parts of the Home Inspection
Our Home Inspection includes but is not limited to the following:  roof, vents, flashings, and trim; gutters and downspouts; skylight, chimney and other roof penetrations; decks, stoops, porches, walkways, and railings; eaves, soffit and fascia; grading and drainage; basement, foundation and crawlspace; water penetration and foundation movement; heating systems; cooling systems; main water shut-off valves; water heating system; interior plumbing fixtures and faucets; drainage sump pumps with accessible floats; electrical service line and meter box; main disconnect and service amperage; electrical panels, breakers and fuses; grounding and bonding; GFCIs and AFCIs; insulation and ventilation; garage doors, safety sensors, and openers; and much more.
The Midland Home Inspector includes Free Thermal Imaging  with every home inspection.  Thermal Imaging can help find missing insulation, hidden moisture and electrical hot spots.  Most of these items are not visible to the naked eye and would be missed if not using Infrared Technology.  The Midland Home Inspector was the First Home Inspection Company to provide Thermal Imaging in Simcoe County.  When making one of the largest investments of your life do you want to gamble on missing hidden defects?
The Midland Home Inspector has been WETT Certified for over 15 years.  We provide WETT Certified Inspections for only $75.00 when included as part of home inspection.  Most insurance companies will require a WETT Certified Inspection if you have a Wood Stove, Fireplace,  Fireplace Insert or Pellet Stove installed in your home.
We provide your WETT Inspection Report at the time of inspection.  Prior to booking a WETT Inspection we recommend you call us to discuss your particular installation to ensure that your Wood Burning Appliance would or would not meet installation requirements.   Consultation is always available and is FREE.
Barrie Home Inspections provides Professional Home Inspections in the Barrie and Local Area.  They also provide WETT Certified Inspections with a Report Issued at time of inspection.
Certifications