ALLISTON  HOME INSPECTIONS – Certified Building Code Official

Alliston Home Inspections is your local home inspection professional, with over 30 years of actual Home Construction and Inspection Experience! Serving Alliston, and all of Simcoe County, with a 100% Money-Back Satisfaction Guarantee on every inspection we deliver! No questions asked.
In the past 18 years Alliston Home Inspection has performed over 8,000 home inspections and also provides Free Thermal Imaging of your home. Thermal Imaging can help identify missing insulation, hidden moisture and electrical hot spots. Learn about the Types of Inspections
Alliston Home Inspections – Leader in Certified Home Inspections
As a Certified Building Code Official with the Ontario Building Officials Association we provide an Expertise which is unique to New Tecumseth and is an invaluable asset when inspecting your new investment property. With over 30 years of construction and inspection experience we offer a complete inspection of your home, from top to bottom. We will identify any potential problems, big or small, and bring them to your attention. No home is perfect and we will assess the physical condition of your property and provide you with an in-depth computerized report with pictures and comments on every deficiency.
Alliston Home Inspections – Buying or Selling ?
The process of buying or selling a home is stressful enough without having to worry about possible major structural deficiencies with the foundation, roofing structure or HVAC and plumbing systems. If you're the "Buyer" you could easily experience costly unforeseen repairs and damages a few months after the purchase. If you're the "Seller", your asking price may need to be reduced or deficiencies repaired.
Home inspections are increasingly becoming a required part of the real estate transaction. We are not only there to protect you from possibly making a costly real estate mistake, a home inspection can assure you the property you are purchasing has properly functioning systems and the overall structure is free from defects.
Alliston Home Inspections will identify issues or deficiencies that otherwise may go unnoticed until after your transaction closes. Protect yourself from unexpected expenses and/or repair bills by having a Professional inspect your property.
As Part of our detailed Home Inspection we inspect all the items listed below:
Exterior – Foundation, patios, driveways, slabs, walkways, grading, drainage, retaining walls, decks, posts, railings, siding, caulking, windows, panes, doors, eaves-soffits, fascia, trim, doors, garage doors, roofing, flashings, components.
Interior – Windows, walls, ceilings, doors, steps, stairways, railings, counters, cabinets, water penetration, fixtures, toilets, tubs, sinks, vanities.
Plumbing – Water pressure, fixtures, faucets, showers, sinks, spigots, visible pipes, supports, functional drainage, water heating equipment and safety, vents, leaks, hot & cold flow.
Electrical – Service panels, amperage, breakers, wiring type, conductor materials, connections, conditions, compatibility, plugs, switches, receptacles, ceiling fans, G.F.C.I. operation, general safety issues.
Heating – heat pumps, furnaces, wall heaters, chimneys, flues, exhaust fans, vents, pumps, ducts, dampers, filters.
Cooling – (Air Conditioning) – Central systems, heat pumps, evaporative coolers, air handler fans, operating controls, thermostat conditions, temperature split, filter conditions, general external conditions.
Roofing – Cover material type, surface conditions, flashings, valley seams, debris, drainage, ridges, hips, ventilation, penetrations, skylights, chimneys, turbine vents, gable vents.
Attic – Insulation type, clearances, framing, trusses, roof sheathing, ducting, wiring, signs of leaks.
Alliston Home Inspections is available seven days a week, and can arrange weekend appointments for your convenience.
Certified WETT Inspection
Most insurance companies now require a WETT Certified Inspection of your Wood Burning Appliance prior to insuring your home.  A WETT inspection is a review of the components of a wood-burning system to ensure that they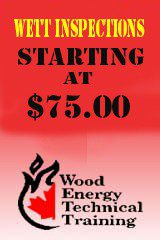 are installed correctly, are maintained in good working order, and that all parts of the system are compatible with one another.  It is also a review of clearances between the components and adjacent combustibles like the walls, floors, and anything else in the area that could catch fire.
 View some examples of potentially dangerous defects found while conducting WETT Certified Inspections.
Alliston WETT Inspector will provide your Inspection Report at the time of inspection.  Most WETT Inspections can be scheduled within 24 – 48 hours.  When included as part of Home Inspection a WETT Inspection fee is only $75.00
Call Roger at 705-795-8255 to book yours today.
Certifications