Innisfil's Best Home Inspector
Choose the Innisfil Home Inspector when Buying Residential or Commercial Property in the Barrie, Innisfil, Alcona or Stroud area. Enjoy the Peace of Mind of having a Certified Building Code Official inspect your property. Whether buying a new family home of investment property, knowing the exact condition of the property is paramount to making a choice on investing your money.
Peace of Mind - Trust the Innisfil Home Inspector
Experience, Knowledge and Training are the three areas that sets the Innisfil Home Inspector apart from the competition. As a Certified Building Code Official, Certified Master Inspector and former Registered Builder with HUDAC, you are getting a Seasoned Veteran with over 8,000 Home Inspections performed.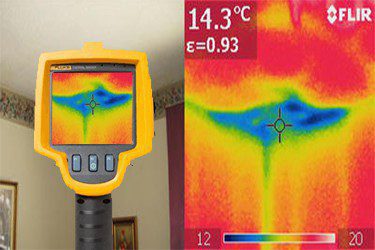 Free Thermal Imaging is offered on every home and commercial inspection. Thermography is a detection and imaging of thermal infrared energy. All objects on earth above the temperature of absolute zero emit infrared heat. Higher surface temperature emits more infrared energy. With the help of infrared camera it is possible to detect and image very small differences in temperature of the surface. However infrared camera is not an X-Ray and it cannot see through the wall or other solid surfaces including glass. As a matter of fact it cannot see beyond the paint layer of the wall. But it can detect anomalies due to the emitting qualities of the material. We offer various infrared inspections in Toronto. You can choose our Premium home inspection for residential house or standalone commercial infrared inspection. We can add infrared scan to our energy audit that will increase its value and determine energy deficiencies more accurately. We conduct infrared scans in Innisfil, Barrie, Alliston, Orillia, Wasaga Beach and surrounding areas.
Most insurance companies now require a WETT Certified Inspection of any wood burning appliance; wood stoves, fireplaces, fireplace inserts and pellet stoves. 
The Innisfil Home Inspector has been providing WETT Certified Inspections for over 15 years in the Barrie, Alliston, Orillia, Wasaga Beach and Innisfil areas.
WETT Inspection is only $75.00 when included as part of home inspection package.  Regular fee for a WETT Inspection is $175.00.
Money Back Guarantee – The Innisfil Home Inspector is the only inspection company that offers a 100% Money Back Guarantee if you are not satisfied with your inspection.  This guarantee is good for 30 days after you take possession of your home.
Commercial Building Inspections 
The Innisfil Home Inspector has been providing Commercial and Industrial Property inspections for over 20 years.  From Commercial Units in strip malls to entire plaza complexes, in most of Southern Ontario.  We can offer our expertise for small commercial condo type units, industrial buildings, factories, plaza's, churches or storefront properties.
Call the Innsifil Home inspector today!
Cell Phone  705-795-8255  or Toll Free 888-818-8608
Email  [email protected]