Pre-Listing Inspections can save you money and stress.
Why a Pre-Listing inspections? Every home sold in today's market will most likely have a home inspection. If you are putting in a Conditional Offer on a home they will probably want you to have a home inspection so you can waive that condition as part of your offer. This prevents you using the Home Inspection as an escape clause later on.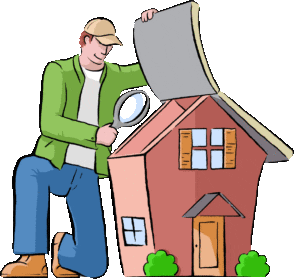 Having a Professional Home Inspector inspect your home prior to listing only makes sense. You will identify any major issues prior to putting home on the market and also it allows you to repair minor or maintenance issues. The up side to this is that you will not be negotiating a price only to have potential buyer re-open negotiations due to some item found during the home inspection.
Also your buyer will be more positive as you have removed the majority of maintenance issues and required small repairs from showing up in his home inspection report. Your negotiated price will remain as your selling price.
Another plus factor is obtaining a pre-listing inspection is that your home will show much better to potential clients during showings and open houses. Many home buyers are very observant and knowledgeable concerning condition of houses. Removing small deficiencies will give a better overall opinion of your home and possibly generate more and higher offers for property.
We provide you with a computerized inspection report with pictures of every deficiency and areas of concern. We discuss your options and suggest methods of correction or repair. The inspection report is discussed in detail with home owner at the conclusion of every inspection.
Benefits of Pre-Listing Inspection
How a pre listing inspection benefits sellers
A pre-listing inspection has quite a few advantages that will benefit the seller:
1. It allows the seller to complete any required maintenance and make repairs before listing the home.
If a seller has a pre listing inspection, he or she will then be aware of deficiencies found in the home and can make the needed repairs to ensure a smoother sale process. Most Professional Home Inspector Associations agree with the advantages listed.
If the seller chooses not to make the repairs, he or she can at least be aware of issues present in the home, which allows him or her to fully disclose this information to potential buyers. It also gives the seller more leverage during negotiations because he or she will not be unprepared and can remove the need for negotiations for price reductions.
InterNACHI also said sellers may be able to convince buyers to waive their home inspection contingency if the seller presents them with a copy of the pre-listing inspection.
2. It ensures a smoother, more efficient transaction 
When issues are discovered during a pre-listing inspection, the seller can either have them fixed ahead of putting the home on the market or choose to disclose the issues to potential buyers. Either choice will make the home sell faster because it will prevent the buyer and seller from becoming entangled in long negotiations after the buyer has an inspection.
Because the issues have been disclosed ahead of time, the buyer will not be surprised by anything and will be less likely to walk away or demand a lower price for the home.
As explained in Home Gain, a provider of online marketing programs that connect real estate professionals with buyers and sellers, homes that provide buyers with the results of a pre-listing inspection give the buyer the opportunity to decide well in advance if he or she wants to purchase a home despite its issues.
3. It helps the seller and his or her agent more accurately price the home 
Sellers who do not wish to fix the issues revealed during a pre-listing inspection can factor the repair costs into the asking price of the home and explain to buyers that while the home has certain issues, they will be getting it for a lower price as a result. Conversely, sellers who do decide to make repairs or who come up with a clean home inspection can ask buyers for more money.
4. It saves the seller money 
When issues are discovered during a buyer-initiated home inspection, the buyer and seller will enter into negotiations to determine who will cover the costs of repairs. In general, buyers tend to significantly overestimate the costs of these repairs, and the seller loses far more money than he or she would have paid to have completed the repairs before listing the home.
5. It makes the seller more trustworthy 
NACHI called a pre-listing inspection "the ultimate gesture in forthrightness on the part of the seller." By disclosing any issues in advance, the buyers can feel confident they are making a deal with a trustworthy person who is not trying to hide anything.
How a pre-listing inspection benefits real estate agents
There are a few ways that a pre-listing inspection specifically helps sellers' listing agents:
1. It helps them market the home
NACHI explained that when a pre-listing inspection reveals no issues, real estate agents can use it as a marketing tool to help sell the home.
2. It helps the sellers appreciate them – and it may even legally protect them 
The Foundation of Real Estate Associates explained that real estate agents are obligated to act in the best interest of their clients, and failing to at least discuss the option for a pre-listing inspection with them is not doing so. If clients lose time and money that could have been saved with a pre-listing inspection, they may blame the agent for not telling them about the possibility. Conversely, sellers will appreciate an agent who takes the time to discuss every possible option.
3. It helps them smoothly broker the deal 
InterNACHI explained that when a buyer and seller enter into negotiations following the buyer's home inspection, the real estate agent generally has to figure out repair estimates and schedule repairs in a very short amount of time. A pre-listing inspection will eliminate this last-minute rush as buyers, sellers and agents will be aware of issues far in advance of these negotiations. As a result, the deal will go more smoothly and is more likely to be completed.
A pre-listing inspection might cost the seller a few hundred dollars, but it could save him or her thousands. Even more, it will save the seller tons of time and stress, and it will help the agent provide the best possible customer service.
We include Free Thermal Imaging scan as part of every Pre-Listing inspection.
Most home buyers will also want a WETT Certified Inspection of Fireplaces, Wood Stove or Pellet stove prior to purchasing.  As part of Pre-Listing Inspection you can have your Wood Burning appliances inspected for only $75.00 as part of your Inspection Package.
Articles You May Enjoy
Home Inspectors Barrie Ontario
Midland Home Inspector
Home Inspector Midland
Home Inspection Guide
Orillia
WETT Inspection Information
Innisfil WETT Inspections
Flue Pipe Installation
WETT Certified Inspection – Floor Protection
WETT Certified Inspection – Flue Pipes
Home Inspections
Pre-Delivery Inspection Myths
Pricing Policy
Privacy Policy
Types of Inspections
Roger Frost
Certified Building Code Official
Certified Master Inspector
WETT Certified Inspector
Phone 705-795-8255 
Certifications