A WETT Certified Inspections includes the construction and installation of your Flue Pipes
Flue pipes maybe called smoke pipes, chimney connectors and flue connectors.  CSA B365 refers to this pipes as Flue Pipes.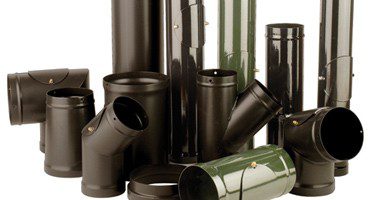 Flue Pipe Overview
Flue pipes run between the wood burning appliance collar and  the entrance to the chimney.  The Flue Pipe is an important component because its size, length, arrangement and installation affect the performance and safety of your wood burning system.  Improper installation can endanger your home and your family.
Currently flue pipes are available in a variety of materials.
Blue steel pipes are made of un-coated steel and are typically not suitable for use with a wood burning appliance.
Articles You May Enjoy
Home Inspectors Barrie Ontario
Midland Home Inspector
Home Inspector Midland
Home Inspection Guide
Orillia
WETT Inspection Information
Innisfil WETT Inspections
Flue Pipe Installation
WETT Certified Inspection – Floor Protection
Inspections
Pre-Delivery Inspections
Pre-Listing Inspection
Pricing Policy
Privacy Policy
Types of Inspections
Areas Inspected