Roof Inspections – Protect Your Home
Roof Inspection can identify issues that can cause water damage to your home.   Your roof is the first line of defense protecting your home against weather elements which can put your home at risk. If you can already spot visible damage from ground level, you can guarantee the property will require some expensive repairs in the very near future!   Many times a section of roof is not visible from the ground and the potential home buyer may not be aware of failing shingles that may require replacement in near future.  Roofs are expensive to repair and replace and knowing the condition of your new homes roof is why you require a professional home inspection.  We inspect asphalt composition shingles, metal roofs, wood roofs and flat roofs – built up tar & gravel, composite or membrane.
Roof Inspections – Tips
Home owners can do their own visual inspection to determine if they have suffered shingle damage after heavy storm or wind.  Knowing what to look for may help prevent premature roof failure or water penetration. Damaging roof leaks can occur from wind damage if not repaired.
Exterior Roof Inspections
✅ Blistered, curled or split shingles.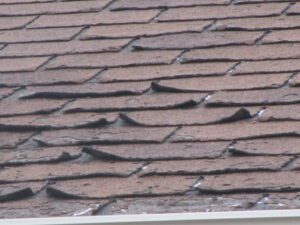 ✅  Loose or missing shingles
✅  Loose or exposed nails.
✅  Improperly seated nails that "popped".
✅  Broken or loose shingles at the ridge and hip lines.
✅  Signs of missing caulk to seal flashing
✅  Rusty or corroded metal flashing.
✅  Damaged or missing flashing.
✅   Sagging on the ridges.
✅  Broken seals on shingles.
✅  Excessive granule loss on shingles.
✅  Examine chimney for cracks.
✅  Rubber boots at top of pipes for dry rot.
✅  Review gutters and downspouts
✅ Examine fascia board for any damage or rot.
✅  Survey the condition of siding above the roof.
✅  Gutters and eaves for proper shingle overhangs.
Asphalt shingles had a life expectancy of between 15 and 25 years. Asphalt shingles are no longer in use and have been replaced with Fiberglass Type shingles which last approximately 15 years.
The Barrie Home Inspector will inspect your entire roof and includes pictures of shingles, flashings and deficiencies in a computerized report.
One of the common entry points for water is through the roofs flashing.  Flashing is typically sheet metal designed to prevent water from penetrating behind the roofs protective covering.  Flashing is usually nailed and caulked to exterior walls and sometime protected by a cover flashing.  When getting quotes for a replacement roof always remember to ask if the price includes new flashing.  Older flashing is unsightly when rusted and riddled with nail holes from multiple roof installations.
All modern shingles manufactured in North America have mats made of interwoven fiberglass strands, so you may also hear them called "fiberglass" shingles.  A modern shingle consists of a fiberglass mat embedded in asphalt, and covered with granules on the surface that faces the weather. The mat, asphalt and granules act together to form a durable, flexible and waterproof assembly.  Barrie Home Inspections will examine your shingles and advise on remaining life span and approximate cost of replacement if required.
As part of the roof inspection we look for the following:
Cracked caulking on flashing –  This can allow water to enter behind flashing and damage wall components and sheathing.  If left unchecked water can enter home doing damage to insulation damaged flashing and drywall and even creating a possible mould problem.
Shingles Curling or Blistering –  This is a warning sign that your roof shingles are going to require replacement.  Typically the protective granular coating wears off the shingle which allows the sun and UV rays to start deteriorating your shingles.
Missing or Broken Shingles –  Wind, hail or walking on roof can potentially damage or tear a shingle.  If not repaired this is an entry point for water which can lead to expensive water damage.
Flashings for plumbing, heat and exhaust ducts – Cracks in rubber boots or cracked caulking at vents etc can also allow water entry.
Roof Defects found During Home Inspections
❌  Open flashing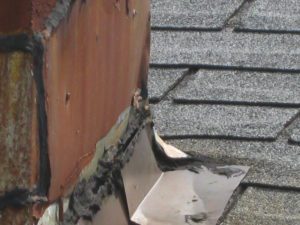 ❌  Roof Flashing Missing on Wall
❌  Roof Partially Re-Shingled
❌  Roofing Issues – Sagging Ridge
❌  Noticeable sag in roof peak
❌  Shingles Require Replacement
Replacing any broken shingles is a fairly easy and inexpensive repair.   Caulking is also very inexpensive but is a very important part of preventive maintenance.  Caulking is an ongoing process in the preventive maintenance of a home.  Checking and sealing any cracks or loose flashing is also easily accomplished.
Cost of Professional Roofing Repairs
Contact listed professional roofing companies and obtain at least three bids for repair work. You can use a handyman for minor fixes and possibly shave costs, but the person should be bonded, have proof of liability, and have workman's compensation insurance.  Make sure everything discussed on re-shingling roof is included in written contract.  Important items are make and quality of shingles,  type and amount of "ice and water shield" and what new flashings are to be installed.   This could be the time you also may want to install new roof vents and plumbing flashings etc.
Read Barrie Home Inspections in-depth article on Protecting Your Attic – Mould is not your only enemy.
Not sure what type of Inspection you need?  Read our Types of Inspection articles to fully understand what each of our inspections provide.
Certifications