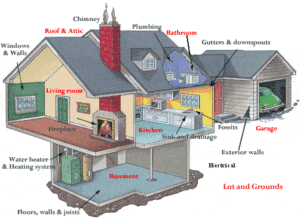 Your building's structure is responsible for supporting your roof, floors, walls, ceilings, stairs and live load right down to your foundation and footings.
Any changes to a home's structure requires a building permit and a design which will require an engineers or registered designers stamp.  Any changes to a homes structure has the potential for catastrophic results.
A Home Inspector will provide any visual deficiencies noted in a homes structure.  For example, a plumber drills through the top cord of engineered floor truss,  this is an engineered product which can only be repaired once a Stamped Detail drawing is provided by Qualified Individual.
Many home owners consider cracks in concrete a Structural Deficiency.  Cracks that would be considered unusual in a new building are often quite normal in an older building. By older, we are referring to a building thirty to forty years old more. Buildings less than thirty years old that develop significant cracking deserve further investigation. Such cracking often indicates other structural problems, not normal aging.
A Structural Inspection by a Qualified Engineer should be considered if any Support Walls have been damaged or modified by the home owner.  Any Structural Modification of a home requires a Building Permit by local municipality.  Buying a home that has had structural modifications without a Building Permit being issued is quite a risk, as you are assuming all responsibility for work that was done.   Supports could be undersized for load,  footings may not have been installed and support could even be in wrong location.
The value of a structural inspection then, as in all professions, is largely dependent on the experience and qualifications of the individual who performs it. A registered Professional Engineer has, at a minimum, completed a four year accredited college program, worked for at least four years
under the direction of other like professionals, and passed a 16 hour exam. He or she is required by their professional code of ethics to practice only in areas competent to do so and to be accountable for the work they do. Individuals who are in private practice who are not registered (even if they have taken engineering courses) may not call themselves engineers.
[SLGF id=1333]
5 home inspection mistakes you should avoid
Not researching the inspector.
Not attending the inspection.
Not reading the inspection report.
Not getting a pre-sale inspection.
Not preparing the home for sale.
Thermal Imaging Scans are typically included by most Professional Home Inspectors.  Using an Infrared Camera can help find hidden moisture, missing insulation and electrical hot spots.
Some of Our Featured Partners
Trades – Local trade person who are qualified at their profession.
Alliston Home Inspector
Tottenham Home Inspector
Barrie Home Inspector
Maintenance Tips
Barrie Real Estate Agents
Home Inspection Contract
Structural Inspections
Advantages of Thermal Imaging
Areas Inspected
Items We Inspect
Air Quality Testing
Home Inspection Testimonials
Call Roger Frost at 705-795-8255  or Toll Free at 888-818-8608
Email Roger     roger@napoleon.cc
DEFECT PICTURES FROM HOME INSPECTIONS
Electrical Defect Pictures
Exterior Defect Pictures
Heating Defect Pictures
Insulation Defect Pictures
Roofing Defect Pictures
Structural Defect Pictures
Thermal Imaging Defect Pictures
WETT Inspection Defect Pictures
Contact Barrie Home inspector
Wood Burning Information
WETT Inspection Information & Facts
Chimney Location
About Chimney's
Installation Check List
Maintenance for Safety
Outside Chimneys